The Philanthropy Council of Northeast Nebraska is thrilled to announce the winners of the 2015 Philanthropy Awards.   From a young student just beginning to explore the power of giving to those who have demonstrated their love for the community through the years, this year's Philanthropy Award Winners represent the best of northeast Nebraska. Their dedication to our area exemplifies the various ways that regular citizens give of their own time, talent, and treasure and make northeast Nebraska an amazing place to live.
Philanthropist of the Year – Gene Willers
Gene Willers, the President of Midwest Bank in Pilger, has displayed selfless generosity in his efforts during and after the devastating tornado to protect and rebuild the community of Pilger.
Youth Philanthropist of the Year – Maggie Robinson
Maggie Robinson is a first grader who, after seeing the aftermath of the Pilger tornado, wanted to find a way to help.  She sewed rice packs, which she called Packs for Pilger, and sold them to raise money for the tornado relief.

Volunteer of the Year – Nita Totten
Nita Totten, a tireless volunteer, has been supporting area cancer patients with countless hours and great compassion over the last several years.  Among other things, she started the Hope Fund which provides direct aid to patients with cancer and developed the Hand-in-Hand volunteer program that pairs cancer survivors with newly diagnosed patients with a similar type of cancer.

Volunteer Fundraiser of the Year – Kent Warneke
Kent Warneke has served as editor and Vice President of the Norfolk Daily News since 1987.  In addition to his involvement in several local and state organizations, he is the founder and principle fundraiser of the Great American Comedy Festival which brings national-level comedians to Norfolk.
Watch all of our 2015 Philanthropy Award Winners talk about what philanthropy means to them.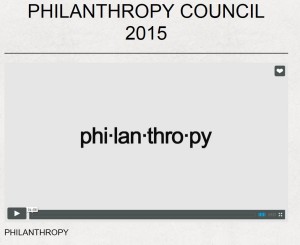 Nominations for next year's Philanthropy Awards will be open in the fall of 2015.
Questions? Email: awards@philanthropycouncilne.org
 _____________________________________________
The Philanthropy Council of Northeast Nebraska is an account of the Norfolk Area Community Foundation Fund, an affiliated fund of the Nebraska Community Foundation.