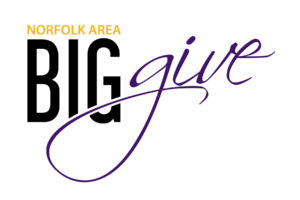 The Norfolk Area Big Give is a 24-hour period of giving where Norfolk area supporters are invited to give back to their favorite local charities and educate themselves on other non-profits in our community.
The goal of this community-wide giving event is to match Norfolk area supporters' passions and generosity with local nonprofit organizations already doing great work. Though community members are aware of the efforts of several non-profits in the area, there is much work that goes unnoticed.
Through the combined participation of all Philanthropy Council collaborative partners, it is our goal to further educate community members on the robust non-profit sector we have here in the Norfolk area and give them an opportunity to make a significant impact on the future of our beloved community.
Our 7th annual Norfolk Area Big Give is being planned for May 2023. Visit the Big Give website to learn more and donate on the day of the Big Give!