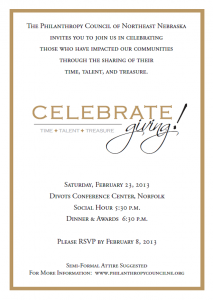 The Philanthropy Council of Northeast Nebraska is hosting the 2nd Annual Celebrate Giving! on February 23, 2013 at the DeVent Center in Norfolk.
This unique event will honor the recipients of the 2013 Philanthropy Awards as well as celebrate the winners of the 2013 Youth Philanthropy Contest.  We are looking forward to bringing the community together to highlight the power of giving and leaving a legacy.
For more information, view the event invitation.
If you would like to join us, please download the RSVP card and return it with your payment to:
Philanthropy Council of Northeast Nebraska
PO Box 714
Norfolk, NE 68702-0714