Paige Orwig – Youth Diabetic Support Group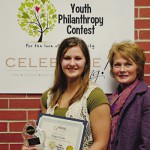 Paige will be starting a support group for young people with diabetes in the Norfolk community.  Paige's mentor is the Noon Kiwanis group.
April 2012 Update: Paige started her support group for youth with diabetes with an event on April 2nd.
Paige's project display was pictured on page 5 of the Nebraska Community Foundation's Spring Newsletter.
Paige created a vibrant flyer for her support group that was displayed in several locations throughout Norfolk.