Patriotic Bags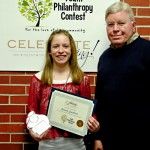 Lauren will be making bags for the Norfolk Veterans' Home so that veterans will be able to attach personal items to their walkers and wheelchairs.
Mentor: Norfolk Noon Rotary
August 2012 Update: For this project, Lauren sewed 125 patriotic bags and delivered them to the Norfolk Veterans' Home.  These bags are being used by residents to attach their personal items to walkers and wheelchairs.  Her project touched many people who, upon finding out about her project, donated military-themed fabric and offered to help.  Lauren has already decided that because this project has been so well supported by the community and so well received by the Veterans' Home, she will continue to create these patriotic bags in the future.